Women Artists Speak, What Matters Today?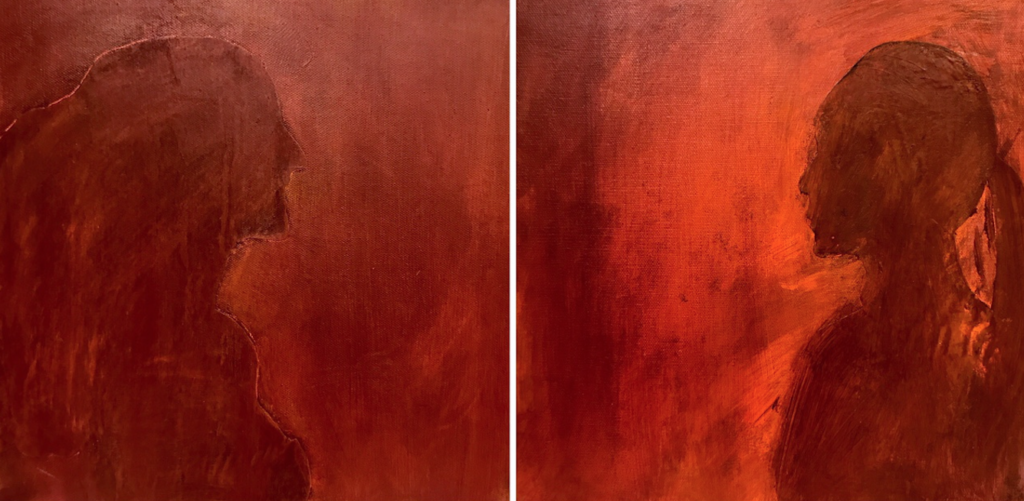 "I don't think about myself as a woman when I set out to make art. I do, however, want to see myself, and the issues I care about reflected in my artwork." 
– Soad Kader, Woman of Color Visual Artist
How is it to live as a woman today? And to be a woman artist specifically? These are questions I've been sitting with in response to the #metoo campaign and the opening of Pandora's box in politics, the comedy world and Hollywood. It is a time to speak up about harassment and injustice towards women, and people are paying attention.
One of the standouts to me of this women's movement, in connection to the 'waking up' that has accelerated around race issues, is people want to be heard. Most importantly, I have realized how crucial it is to listen. Therefore I decided, rather than share my thoughts and ideas about being a woman artist, I wanted to listen and learn.
Here is what I uncovered as I reached out to a variety of women that I know and respect from different art disciplines and backgrounds. Several of them I have worked with, and many I watch from a distance admiring how they move in the world. I hope they inspire you as much as they have inspired me…
Marlene Aron – Environmental Visual and Installation Artist, Writer, Lecturer, Activist: "I am confident in my work. It has never mattered what anyone else thought or said about my work. I have known since I was a child of five that I would be an artist. At the same time, I think women artists have never been taken as seriously as men. At universities, where I taught in art departments, the full-time professors were almost always men. Part-time professors were almost always women. One of the most insulting things said to me as a woman artist was by a peer faculty professor in a university where I was teaching, who was also a former painting instructor of mine. He said: "I always thought you were good. You painted like a man." As an art lecturer, I have put together a program on women artists, to show we are equal, as important as men. We must be included in the mix. We must insist on equal access, as women, as artists, in all areas of the creative and educational environment."
Joy Cosculluela, Movement Artist, Choreographer, Somatic Educator, Bodyworker, a Filipino immigrant exploring themes of identity: "Movement and dance give me the courage to express hidden sensations living in my body. Dance is excavating what's inside and finding ways to re-create and reshape who I am. As a woman of color, I find it challenging at times to own my power and freely express myself.  With dance and the expressive arts, I can explore how my body can break through themes of being inadequate and  experiment with themes of empowerment, transformation and resilience.  It is gift to dance and share my passion with others and to be witnessed by a supportive community." 
Kerensa DeMars, Artistic Director, San Francisco Flamenco Dance Company: "Dancing flamenco I feel complete. There is space for all the fierce, poetic, sensual, heartbreaking, reflective, chaotic and joyful parts of human experience in it. The gritty exuberance and unflinching honesty of flamenco are what inspire me both as an artist and as a teacher. To see women connect to themselves through flamenco is a remarkable thing."
Krista DeNio, Choreographer, Director, Educator: "As a woman and an artist I have spent a lifetime carving my own paths, into and out of studios, theaters, educational institutions, organizations, genres, forms and disciplines. A relentless path of self-determined choice-making, was the direct result of being a woman battling sexism, an artist battling capitalist ideology and a dancer raised in an extremely conformist lifestyle, where dancing was labeled a sin. That conformity stoked the flames of my imagination and my passion to really understand the world and people around me. From the limited cells of systemic patriarchy, my body-mind became one full of fire to create a world in which I will always and forever be my own boss and in fact, innovate new and alternative pathways for myself and others."
Amber Field, Singer, Musician, Performer, Voice Coach, Expressive Arts Facilitator: "As a queer, non-binary Korean American adopted artist, I love how the arts have helped me and other marginalized folks express our pain and heal, share our stories, change the dominant narrative, and inspire a more just world. I am delighted to share the tools that have helped me free my voice with others as we all sing, sound and speak our truths. Art is ritual, a way to honor our ancestors and heal past, present, and future."
Dianne Griffin, Documentary Filmmaker: "I am a documentary filmmaker creating out of a woman's way of being in the world, I don't know another way of being a filmmaker. Recently over a phone conversation a male Director let me know that I was almost thinking like a documentary filmmaker. I was shocked because this same person had hired me to work closely with him on a project and knew my experience. This man makes documentaries exclusively about women but yet easily discounted my work. I let him know right away there was not an almost, I am a documentary filmmaker with twenty-five years of experience."
DK Haas, Painter, Mixed Media Artist: "I am a painter and mixed media artist. I am a lesbian and I am sober. I began making art as a practice after being sober for 14 years and hearing "mind your own business and get some business to mind in AlAnon". My medium is wax, pigment and oil paint and I am an explorer of printmaking. Honoring my creative urges and impulses is about trust, courage and authenticity. Being willing to learn, willing to share and willing to make bad art (mistakes) is the stuff of living richly and intentionally. Art making is a way of engaging spiritually and emotionally, ways I want to be as a woman and an artist."
Rhodessa Jones, African American Artist Activist, Writer, Director, Performing artist, Mother, Grandmother. Founder/Artistic Director, The Medea Projector, Theater for Incarcerated Women Co-director, Cultural Odyssey: "Politics don't work, religion is a bit too eclectic, but art, art could be that parachute that catches us all!" "When you step out onto the path, – soften your eyes- breathe out peace, but always be prepared for war. Say what you mean – mean what you say. Be a woman don't be no dress! I refuse to be in the world and in the way!"
Naomi McDougall Jones, Writer, Actress, Producer, Women in Film Activist: "I think it is possibly the most thrilling moment to be a female artist in modern history. As we look down the barrel of a government that wants to impose the most regressive policies and controls on women in decades, a feminist rage and awareness has been unleashed that, I believe, will lead to a big, brilliant, full-throated women's revolution. I think that revolution will begin with the female artists, as we furiously and joyously charge forth to tell our stories and make our work with more vigor, richness, and strength than ever before." 
Delfina Piretti, Visual Artist, Healer, and Elder: "Women are the great creators, it's in our bodies! All life comes through a woman's body. I'm a working class girl and the shadow side of my Italian heritage emphasized home and kitchen as women's domain. If you were too expressive you were a trouble, and a threat to the patriarchy. On a recent trip to Italy I met a young spoken word artist whose work is brilliant and captivating. I especially love hearing young women's powerful voices. I wonder how my life would be different if I had been able to belt it out at that age. The good news is it's never too late!"
Judy Shintani, Narrator of Culture, Visual and Community Artist: "I am successful if I inspire people to create, dig deeper into knowing differently, connect beyond the surface. I've been told I am a "portal opener" and I love that. I give people a way in through viewing, interacting, and collaborating with me and my work. From my perspective, women can be collaborative and inspire others in ways that I don't see as many men doing. We aren't threatened, and give each other a hand up, mentor and share. As artists, often we are the storytellers of our families, communities, and ethnicities – we bring these histories to light through our art."
Cynthia Tom, Visual Fine Artist (painter, found object, mixed media, art installation), Community Art Curator, Women's Advocate, Founder of A Place of Her Own: "My experiences as a female, Chinese American artist has opened me up to helping other women to find their voice separate from all others and put their stake in the ground. I visually explore issues in my life, my female ancestors and the community of women. My art reflects my passion around social justice for women and people of color, integrating the arts within the community to heal and transform. I believe artists have the power to educate deeply and make profound changes in how people perceive themselves and their communities. I create work that brings attention to women's issues, using art for both healing and bringing awareness to the current state of human trafficking and domestic violence."
Dawn Trook, Performance Artist: "After testing positive for HIV in my early 30s, I started creating works by excavating imagery, sounds, movement, and words from within my body: I discovered the ache in my knee could be a song and the replicating virus a butterfly dance party. Something was happening to my body, so I chose to transform that activity inside me into a fountain of creativity. HIV was creating itself, using my body–and I was using it–to make art. I used that strategy in my 40s as well, when I was grieving my childlessness. That empty womb became a cave I lit up with my creative process, and I discovered beautiful and dangerous stalactites and stalagmites."
Rebekah Windmiller, Choreographer, Dancer, Visual Artist, Expressive Arts Therapist "I've been a choreographer/dancer for 34 years. My work continually moves back and forth between the joy of abstraction and playing with ideas where emotional experience is emergent from a process of formality, to a deep need to create a space to unwind or unfurl personal narratives and experience that are born through the truth of the body. Lately, I've been on a hiatus from dancing, and when I recently reconnected I had the thought, "don't ever think you know what this is because as soon as you do you know nothing." The experience of being a woman is always present whether in the background or foreground, but can never be denied because I see the world through the eyes of a woman and this is what works it way into my dancing body."
Self Published, November 2017
Cover Art: Painting by Soad Kader, 'listen to our stories', click here to see more art.