Making a 15 Minute Life/Art Collage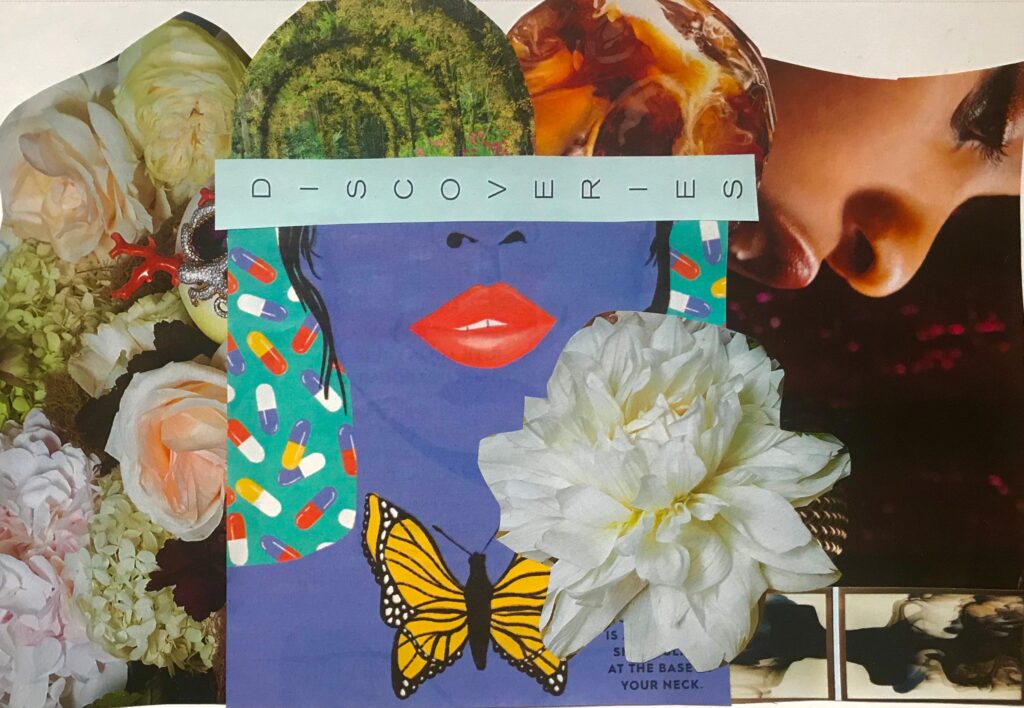 Happy 2020! There is something remarkable about a new decade. I'm feeling the shift more than I expected. The transition to 2020 is potent and I am enthusiastic about the year(s) ahead. 
Art is the anchor for me in the ups and downs and having a creative practice helps to mark the passage. Here is a simple collage exercise that I've been doing since my 20's, but have streamlined over the last few months. It helps me express myself, be introspective and playful, AND it can be completed in a very short period of time which stimulates the reward center of the brain :). Doing this exercise leaves me with this thought…
COOL – I MADE SOME ART TODAY!
…
15 Minute Life/Art Collage Exercise

 Disclaimer:
The first 3 steps prepare you to to make your 15 minute collage.
1) Gather magazines that you have at home or find at a thrift shop, etc., which include interesting photos and artwork that you can source from.
2) Purchase a small sketch book and a few glue sticks to create your collages. A 5×7 or 8×10 sketchbook is good size to work with.
3) Go through your magazines and rip/cut out a collection of found images that speak to you. Store them in a box or folder that you can access easily when you want to make a collage.
4) Find a quiet space and choose one image from your image collection that attracts you and feels aligned with your thoughts / emotions / experience at present as a seed for your collage. Let it build from there choosing more images, following your intuition and letting images layer upon one another.
5) Move the images around until you find an appealing/compelling collage piece. Let it be imperfect. Don't overthink it or take a lot of time with it (unless you want to make a 30min or 1 hour collage – then keep going).
6)  With a glue stick, glue the images to the page and VOILA – 15 minute collage is complete!
Adriana Marchione
Self-Published January 2020