Art Altar: Life/Art Remedy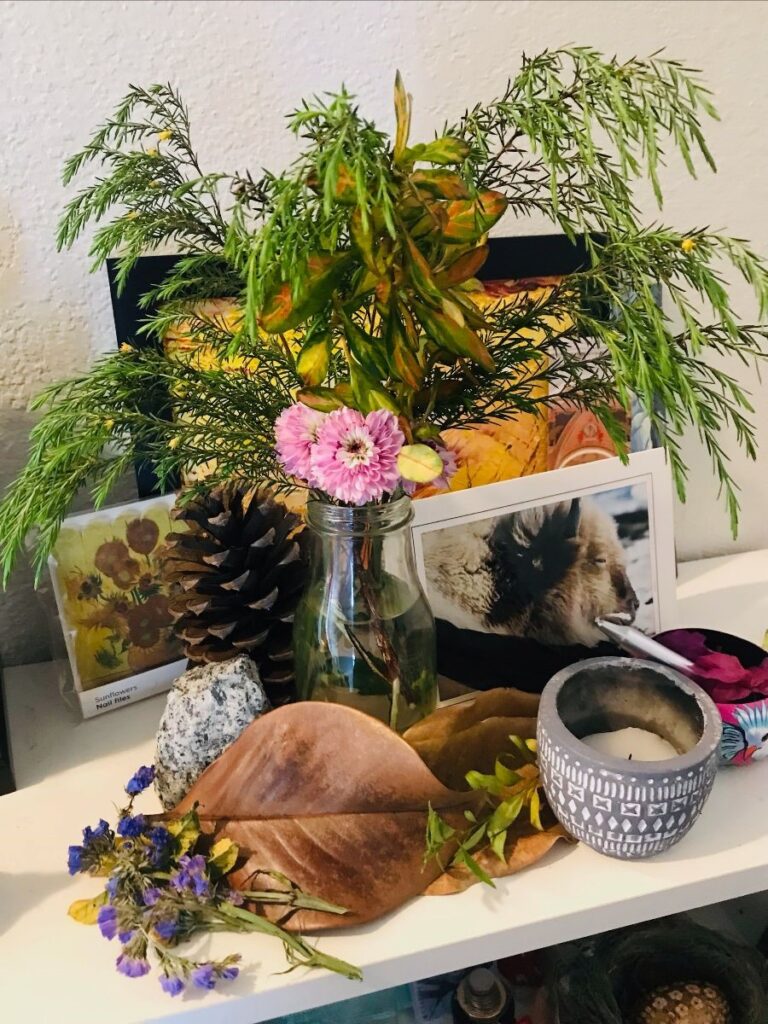 Last week I wrote about 'languishing' and how art can be a way through (find the blog post here). I am following up with a 'life/art' remedy to support you to connect to your aliveness through an Art Altar.
I have found that even the simplest gathering of objects that have meaning increases the feeling of purpose and inner strength. In addition, it can be a useful guide towards healing oneself, giving hope to someone in your life, or supporting a cause you believe in.
ART ALTAR EXERCISE
1) Find the intention for your art altar. What do you want to focus on, heal, offer to a person in your life, or a cause you believe in?
For example, the image below is of a healing altar I created for my friend Theanna whose health is declining due to ALS. The intention is to offer her soothing and comfort as well as honor her fear of dying. I add items to the altar and send her pictures of it. This altar also gives me nourishment and peace of mind.  
2) Gather your altar items. Find a space to place objects that you find at home or in nature that speak to you. Gather elements that relate to your intention, i.e. if you want joy – find joyful images or objects, if you want to honor a loved one, find things that they would appreciate or that remind you of them.
3) Be Creative: You can draw/paint/collage your own images to add to the altar and/or find ways to design small sculptures with your objects that are aesthetically appealing.
4) Stay Connected to Your Altar: Keep your altar alive by visiting it frequently, meditating or journaling alongside the altar. Add and subtract items as you feel moved.
If you do the exercise and feel inspired to share your art altars with me, send me an email. I would love to see what you created.